Dette er et innlegg av forsker og dr. scient. Kjetil Elvevold som en respons til Faktisk.no som har bedt ham om å ta stilling til en såkalt "faktasjekk" fra deres side angående hans uttalelser om vaksiner i et intervju hos Hemali.no.
Foreningen Lov og Helse
Tilsvar til Faktisk.no
Av Kjetil Elvevold
Hei, Dette er journalist Geir Molnes i Faktisk.no. Jeg har sett nærmere på et intervju du har gjort med Hemali. I den forbindelse har jeg fått noen kommentarer fra professor og immunolog Anne Spurkland ved UiO og vaksineforsker Even Fossum ved Rikshospitalet. Under følger først noen av deres overordnede betraktninger om intervjuet du gjør med Hemali. Deretter har de også sett nærmere på noen av påstandene du fremmer. De er uenige i mye av det du er sitert på i intervjuet.
Jeg sendte også en tilsvarende e-post til D´liver-eposten din på fredag. Dersom du ønsker å kommentere noe av det forskerne sier til oss i Faktisk.no, trenger vi svar innen klokken 12 i morgen. I et intervju publisert av nettstedet Hemali fremsettes det en lang rekke påstander om koronavaksiner. Det er Kjetil Elvevold som står for påstandene. Han er ansatt i forskningsinstituttet Nofima, som forsker på vegne av akvakulturnæringen, fiskerinæringen og matindustrien.
I Hemalis artikkel er han titulert som medgründer og tidligere seniorforsker i D'liver, et selskap som skal drive med oppdragsforskning for legemiddelindustrien. Basert på selskapets regnskapstall, ser det ikke ut til å ha vært mye aktivitet i D'liver de siste årene.
For det første vil jeg si at Faktisk.no sin metodikk med å sende en mail hvor man vil ha svar på særdeles kompliserte spørsmål og temaer innen kl. 12 neste dag rett og slett er uredelig.
Jeg var seniorforsker og utførte eksperimenter med nyutviklede medisiner i forsøksdyr i D'Liver. Selskapet gikk meget godt og hadde 3 av verdens største legemiddelselskaper i porteføljen. Vi fikk også inn en stor søknad fra NFR for å utvikle et patent. D'Liver utførte pre-kliniske studier (dyrestudier) og var avhengig av Universitetets dyreavdeling. Da Universitetet skulle bygge om dyreavdelingen førte det til så store forsinkelser at D'Liver ikke kunne fortsette driften. De enorme forsinkelsene i ombyggingsprosessen er omtalt her.
I perioden 2015-2020 var jeg en av Norges to representanter i et nettverk av forskere kalt COST (European Cooperation in Science and Technology). Nettverket samarbeidet om å utvikle metoder for å korrigere genfeil hos pasienter vha oligonukleotider (RNA/DNA).
Fra 1 januar 2022 er jeg engasjert i Forskningsrådets FORNY20-FORNY2020 program i et prosjekt med tittelen "Liver uptake control". Som det står i den publiserte prosjektbeskrivelsen så omhandler prosjektet nanoteknologier som er 100% relevant for dagens injeksjoner/«vaksiner». Foreløpig har jeg 3 fagfellevurderte vitenskapelige publikasjoner sammen med AstraZeneca. Den fjerde blir publisert i løpet av 2022 og er blant annet et resultat av arbeid jeg utførte ved AstraZenecas laboratorier i Gøteborg våren 2018 og studien omhandler lipide nanopartikler med mRNA. Jeg vil påstå at jeg har langt over gjennomsnittlig erfaring med forskning på oligonukleotider og nanoteknologier.
I informasjonstidsalderen vi lever i har det blitt – kanskje for bekvemmelighetens skyld – en vane for folk flest å bedømme informasjonens kvalitet utfra roller et medie eller en person har fått tildelt. Selve mediet eller personen er dog underordnet fordi informasjonens kvalitet bør i utgangspunktet være uavhengig av formidlingsmediet.
Regnskapstall for firmaet D'Liver bør ansees underordnet i den faglige diskusjonen om informasjonen som kom frem i intervjuet med hemali.no, og som skapte uenighet. Men det må være lov å være uenig og det er enda bedre hvis uenigheter fører til en konstruktiv debatt. Jeg mener at det er den ekte diskusjonen og debatten om de ulike synspunktene og særlig vitenskapelig dissens som ble første offeret i koronakrisen. Mangelen på offentlig debatt har vært påfallende og skyldes ikke at det har vært full enighet. Det skyldes at motstemmer har blitt sensurert. Dr Martin Kulldorff, professor i epidemiologi ved Harvard Medical School, sier at ikke siden andre verdenskrig har så mange vitenskapsmenn blitt sensurert.
Faktisk.no har vært i kontakt med to vaksineforskere som har sett nærmere på intervjuet. Begge avviser mange av påstandene som fremmes av Elvevold.
Det har vært kjennetegn gjennom hele pandemien at bare noen få forskere – og stort sett alltid de samme – har fått podiet til å uttale seg om hva de synes er «sant» eller «usant» eller hva «vitenskap har vist». Men det eneste vi vet som en sannhet er vel at «vitenskap» ikke handler om sannheter. Da er det nemlig ikke vitenskap lenger, men et dogma. Vitenskap lever av dissens, utforskning, spørsmålstegn, hypotese-antitese-syntese-diskusjon, og det samme om igjen.
– Mye av det Elvevold kommer med i dette innlegget er påstander som har vært tilbakevist gjentatte ganger, så det blir nærmest en oppsamling av ulike myter rundt covid-19 vaksinene, sier vaksineforsker Even Fossum ved Rikshospitalet til Faktisk.no.
Fossum sier at «mye… har vært tilbakevist gjentatte ganger». Men den vitenskapelige metoden er ikke basert på flertallsprinsippet. For å komme frem med noen nye erkjennelser skal man bruke den vitenskapelige metoden, og den er basert på logikk, teori og empiri. Det hadde vært fint hvis Fossum heller brukte den vitenskapelige metoden for å vise at jeg tar feil.
"Professor og immunolog Anne Spurkland ved Universitetet i Oslo skriver at Elvevold gjengir mye klassisk antivaksineretorikk i innlegget», skriver Faktisk.no, men hun kommer dessverre ikke med noen konkrete faglige argumenter.
Fossum påpeker også at Elvevold ikke har publisert noen studier på vaksiner eller immunologi. Dermed kan han ikke sies å være en ekspert på vaksiner, selv om han er forsker med doktorgrad i leverfysiologi.
Verken jeg eller Hemali.no hevder at jeg er ekspert på vaksiner. Over har jeg nevnt noe av min bakgrunn og jeg har i tillegg arbeidet 4 år i et prosjekt for Biotec Pharmacon. Forskningsprosjektet gikk ut på å studere aktiveringsmekanismer i det medfødte immunsystemet. Innen akademia har vitenskapelige publikasjoner av forskningsarbeidet en høy prioritet og er gjerne avgjørende for karriereveien til en forsker. Innen oppdragsforskning er imidlertid situasjonen annerledes. Der er det oppdragsgiver som eier resultatene og som bestemmer hva som skal gjøres med dem. Ønsker de ikke at forskningsresultatene skal publiseres, så blir de ikke publisert. Jeg håper ikke Fossum mener min doktorgrad i leverfysiologi diskvalifiserer meg i å ha kunnskap i andre forskningsfelt? Mitt felt inne leverfysiologi overlappet for eksempel med utvikling av legemidler noe som er årsaken til at D'Liver ble stiftet. Men jeg er ikke farmakolog. I min post doc periode startet jeg sammen med en kollega et pilot-prosjekt for å studere virus i leveren. Prosjektet fikk senere en bevilgning på 10 millioner NOK fra NFR Role of scavenger endothelial cells in elimination of virus – Prosjektbanken (forskningsradet.no). Men jeg er ikke virolog. Min doktorgradsoppgave ble for øvrig premiert med Dr Kreybergs Pris for beste doktoroppgave innen Eksperimentell Patologi i Norge for perioden 2004-2008. Siden Fossum er vaksineforsker og jeg har god kjennskap til teknologien som brukes i de genbaserte vaksinene, er det et bra utgangspunkt for å få til en konstruktiv vitenskapelig diskusjon.
I intervjuet med Elvevold fremsettes en rekke påstander som forskerne har sett nærmere på.
Påstand: Vaksineprodusentenene hoppet over dyreforsøk:
I intervjuet med Hemali hevder Elvevold blant annet at under utviklingen av vaksinen «hoppet produsentene over stadiet med dyreforsøk». Dette er imidlertid feil.
– Det stemmer ikke. Ved utvikling og utprøving av både Moderna og Pfizer sine vaksiner ble dyreforsøk igangsatt tidlig, og la sammen med fase I studien i mennesker grunnlaget for å gå videre til fase to og tre utprøvning, skriver vaksineforsker Fossum til Faktisk.no.
– Moderna offentliggjorde først resultater fra pre-klinisk utprøvning 11 juni (før fagfellevurdering). Studien ble så publisert i Nature 5. august 2020, opplyser han.
Professor Spurkland forteller også at påstanden er feil:
– Dette stemmer ikke. mRNA-teknologien har vært testet ut i dyr, både før pandemien i ulike sammenhenger, og også SARS-CoV-2 vaksinen har vært testet i dyr, skriver Spurkland til Faktisk.no.
At produsentene hoppet over stadiet med dyreforsøk ble tolket av Spurkland som om jeg hadde sagt at det aldri ble gjort noen dyreforsøk. Jeg vet at mRNA teknologien har vært testet i dyr tidligere. Jeg var mest sannsynlig en av de første i verden til å utføre tester på forsøksdyr med denne typen nanopartikler utviklet av Pieter Cullis. De ble først utviklet for små siRNA, senere mRNA. Mine forsøk var "proof-of principle" tester utført i 2015.
Fossum skriver at dyreforsøk ble satt i gang tidlig, og at dette sammen med fase I studien i mennesker la grunnlaget for å gå videre til fase II og III. Men det er ikke slik utviklingen skal foregå. Når studiene bare er igangsatt og ikke ferdig evaluert, gir ikke det grunnlag for neste utviklingsfase. Kun en ferdig evaluert studie med lovende resultater gir et godt grunnlag. Men alle resultatene er fortsatt ikke frigitt.
Leseren burde kanskje vite at legemiddelutviklingen, dermed inkludert vaksineutvikling, foregår i «faser». Det som er ny med Covid-19 vaksineutvikling er at prosessen har blitt teleskopisert, dvs. fasene har blitt satt i gang parallelt, og blitt forkortet: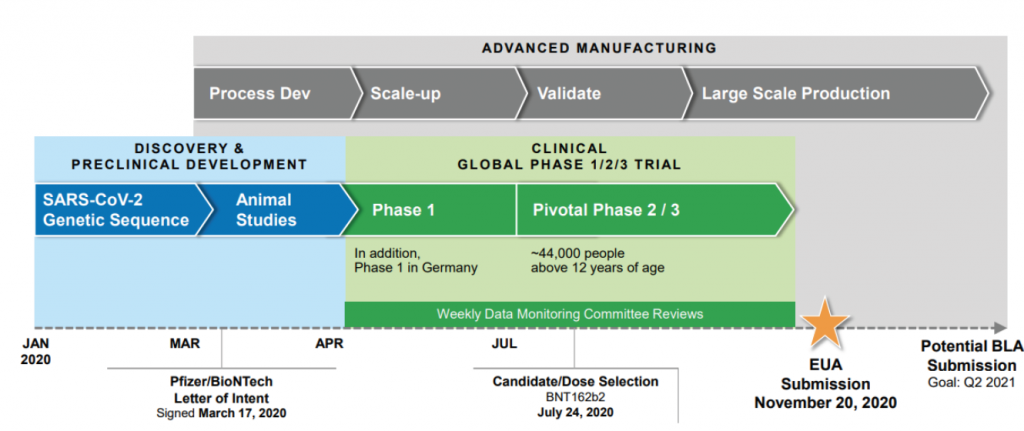 Figur 1: Kliniske studier på mennesker ble satt i gang mens dyreforsøk pågikk, men uten foreliggende resultater. Kilde: Canadian Covid Care Alliance (CCCA). "Checking the fact checkers", page 2.
Fordelen med å gjøre det på denne måten er at prosessen blir forkortet. Men at forsøk og studier blir igangsatt og så fortløpende evaluert samtidig som det ferdige produktet blir gitt til millioner mennesker kan få bekymringsverdige konsekvenser. Videre, for å redusere produksjonstiden, har man på helt uakseptabelt vis også fjernet muligheten til justeringer av produktet dersom resultatene viser at det bør gjøres. Kunnskapen og forståelsen av de molekylære mekanismene, fordelingen i kroppen, nedbrytbarhet (ADME)– får vi når de prekliniske resultatene, dvs. in-vitro og dyreforsøk, er ferdig evaluert. Halv-viten er farlig, som legemiddelhistorien tidligere har vist
http://www.bioethics.nih.gov/courses/pdf/2012/Lederer.pdf
http://thalidomidestories.com/
I vitneavhøring i senatet i Texas kom det frem at dyreforsøk ble stanset fordi forsøksdyrene døde.
Produksjonen av Pfizer-vaksinen ble igangsatt i stor skala allerede i September 2020 før den kombinerte kliniske fase II/III studien hadde blitt publisert i NEJM, og bare noen få uker etter Pfizer hadde sendt resultatene fra den første kombinerte fase I/II studien til peer-review i tidsskriftet Nature i slutten av juni 2020.
I tilfellet med Astrazeneca-vaksinen startet stor-skala produksjonen allerede i Juni 2020 – tilsynelatende før en pre-print av den første kombinerte kliniske fase I/II studien ble tilgjengelig i Juli 2020. Det betyr altså at stor-skala produksjon startet før de første resultatene om dose og virkning av vaksinen i mennesker hadde blitt fagfellevurdert og publisert.
«We are starting to manufacture this vaccine right now – and we have to have it ready to be used by the time we have the results»
Men i stedet for å bekymre seg for at vaksinene kunne lede til helseskader var Astrazeneca bekymret over den finansielle risikoen:
«Of course, with this decision comes a risk but it's a financial risk and that financial risk is the vaccine doesn't work," he [Pascal Soriot] added.»
EMA (European Medicines Agency) skrev om Astrazeneca i nødgodkjenningsrapport (29 January 2021, EMA/94907/2021) side 42:
«There was an unexpected finding of viral RNA in tissues of the gastrointestinal tract at 7 days post-challenge in immunized animals, but not in the control group. The Applicant states that "…there is a trend towards greater presence of viral RNA in the gastrointestinal tract in the 5 prime-boost group animals with a strong antibody response prior to the very high dose challenge."In addition, the clinical scores were worse in the prime-boost group compared to the prime-only group. The Applicant exerts that the significance of this finding is not yet known.»
Dette sier ikke noe annet enn at dyrene ble veldig syke etter injeksjonen nummer 2. Og Astrazeneca («the Applicant») kunne ikke si hva dette innebar i praksis ("the significance of this finding is not yet known"). Og det så ikke bedre ut i studien med ilder (EMA evalueringsrapport, side 52):
«Regarding the histopathology as seen in study 6285, mild pulmonary lesions were observed in control animals in comparison with AZD1222 vaccinated animals. One week after the challenge, this difference was no longer detectable due to the fact that the pathology scores in the vaccinated animals worsened over time. In contrast, formalin inactivated SARS-CoV-2 animals which presented the worst pathology scores among all the experimental groups during the first week, showed a tendency for improvement after the first 7 days post challenge. No differences were seen between prime-only and prime-boost regimens.»
Toksikologiske forsøk blir alltid utført med en kontrollgruppe. I dette tilfellet her besto kontrollgruppen av ilder som fikk injisert inaktivert Sars-CoV-2. Forsøket viste seg å være ganske mislykket, siden vaksinerte dyr ble dårlige under observasjonsperioden ("pathology scores in the vaccinated animals worsened over time").
EMA-rapporten skriver at noen forsøksdyr i studien med Astrazeneca vaksinen døde og de krevde videre diskusjon om den mulige årsaken og bedre dokumentasjon:
«Some of the animals in study 20-01125 presented a reaction leading to death that was ascribed to the presence of BSA derived from the culture media used for virus growth. This can be a result of the pre-existence of anti-BSA antibodies derived from the required husbandry vaccination. The full report of this deviation has been requested for reassurance (recommendation).»
EMAs kommentarer under godkjenningsprosessen for Pfizer-vaksinen ser heller ikke bra ut (EMA rapport 21 December 2020, EMA/707383/2020). Også her ble forsøksdyrene syke, og særlig lymfeknutene og leveren ble skadet, men også betennelser i ledd ble observert:
«At 100ug BNT162b2 V8, there were observations of various inflammatory signs at the injection site (e.g. fibrosis, myofiber degeneration, oedema, subcutis inflammation and epidermis hyperplasia). Also, there was inflammation of the perineural tissue of the sciatic nerve and surrounding bone in most rats at d17. The bone marrow demonstrated increased cellularity and the lymph nodes showed plasmacytosis, inflammation and increased cellularity. The spleen demonstrated increased haematopoiesis in half the animals at d17. The liver showed hepatocellular periportal vacuolation at d17 (fully reversed during recovery) which may be related to hepatic clearance of ALC0315. Histopathology assessment of 30ug BNT162b2 V9 generated similar results as 100ug BNT162b2 V8 although not on as extensive level (possibly due to a lesser dose). Minimal to moderate inflammation and oedema was observed at the injection site (usually resolved after ~3d). There was minimal to moderate increased plasma cell cellularity in the lymph nodes and germinal center cellularity plus hematopoietic cell cellularity in the spleen at d17 (reversible at end of recovery). There was minimal increase cellularity in the bone marrow. Reversible vacuolisation in the liver was also observed. The Applicant explained that peri-portal liver vacuolization was observed in both pivotal studies but are not related to any microscopic evidence of liver/biliary injury in animals (cellular hypertrophy, inflammation) nor any clinical data from Phase 1 study. Vacuoles are considered by the Applicant to be a result of ALC-0315 accumulation in liver and not PEG. A novel finding at 30ug was minimal extra-capsular inflammation in the joints at d17. Moreover, increases in neutrophils, monocytes, eosinophils and basophils were observed in study 20GR142. For the Applicant, increases in neutrophils, monocytes, eosinophils and basophils observed in the Study 20GR142 were related to the inflammatory/immune response to BNT162b2 administration.»
Alt dette ble vurdert som "akseptabelt" av EMA, mest fordi de fleste skadene viste seg å være reversible. Men hva med pasienter som har nedsatt leverfunksjon, hva med pasienter som har artritis fra før? Og hva hvis lipidene akkumuleres over tid i celler og organer ved gjentatte boostere der de kan føre til stor skade?
EMA-rapporten om Pfizer-vaksinen gir dokumentasjon på at både distribusjon, metabolisme og utskilling (ADME) enten ikke ble undersøkt eller med bekymringsverdige resultater – side 47 (EMA/707383/2020) om distribusjon:
«Over 48 hours, distribution was mainly observed to liver, adrenal glands, spleen and ovaries, with maximum concentrations observed at 8-48 hours post-dose. Total recovery (% of injected dose) of radiolabeled LNP+modRNA outside the injection site was greatest in the liver (up to 21.5%) and was much less in spleen (≤1.1%), adrenal glands (≤0.1%) and ovaries (≤0.1%).»
Dokumenter fra Pfizer Japan viste at lipid-nanopartiklene med mRNA inni fordelte seg over hele kroppen og særlig akkumulerte i leveren, eggstokkene og ryggmargen av forsøksdyrene. Det er bekymringsverdig at disse akkumulerer i eggstokkene og vi vet ikke hva det har å si for fertiliteten til unge jenter som tar disse injeksjonene. Heller ikke hva det har å si for et jente-foster under utvikling hos gravide som tar injeksjonen. Eggene, som mange år senere frigjøres under menstruasjon til et jente-foster utvikles tidlig i fosterstadiet. Hvis disse påvirkes av at mor tar injeksjonen får vi ikke vite det før om mange år. Det er i det hele tatt nærmest uhørt at det tillates å settes et eksperimentelt produkt i gravide. Jeg vet ikke om det noensinne har skjedd før.
Side 47 (EMA/707383/2020) om nedbrytning:
«Metabolism studies were conducted to evaluate the two novel lipids in the LNP, ALC-0315 (aminolipid) and ALC-0159 (PEG-lipid). No metabolic studies were performed with the modRNA or the other two lipids of the LNP.»
Dette forteller oss at vi ikke vet noe om hvordan RNAen blir brutt ned. Alle uracil-nukleotidene i mRNA er byttet ut med en syntetisk versjon, N1-methylpseudouridine, for å øke stabiliteten. Derfor burde det være av stor interesse å vite nedbrytningsprofilen av mRNAet. Man har derfor ikke kontroll på hvor mye spike-protein som produseres av mRNA fordi man vet ikke hvor fort det brytes ned.
Side 48 (EMA/707383/2020) om excretion (utskilling):
«No excretion studies were performed with the modRNA or the other two lipids of the LNP which is considered acceptable by the CHMP.»
Vi vet ikke mekanismene for hvordan mRNAet blir skilt ut fordi dette ikke ble undersøkt. Det ser ut som at noen av lipidene forbli ganske lenge i kroppen – og dermed muligens også RNAet som er pakket inn i disse lipidene – side 53 (EMA/707383/2020):
«ALC-0315 has no known biology. In the absence of this 'biological relevance' the applicant [Pfizer] used an estimation of >95% elimination of ALC-0315 to represent the essential elimination from the body. The elimination half-life of ALC-0315 in the liver following IV administration in the rat is approximately 6-8 days. These data indicate that 95% elimination of ALC-0315 will occur approx. 30-40 days following final administration in the rat.«
Side 50 (EMA/707383/2020) om genotoksisitet (evnen til å forårsake skade av arvematerialet):
«No genotoxicity studies have been provided. This is acceptable as the components of the vaccine formulation are lipids and RNA that are not expected to have genotoxic potential.»
«Risk assessment performed by the Applicant indicates that the risk of genotoxicity relating to this excipient [ALC-0519] is very low based on literature data where acetamide genotoxicity is associated with high doses and chronic administration (≥1000 mg/kg/day). Since the amount of ALC-0159 excipient in the finished product is low (50 μg/dose), its clearance is high and only two administrations of the product are recommended for humans, the genotoxicity risk is expected to be very low.»
I stedet for å undersøke genotoksisitet antar EMA (og Pfizer) at risikoen trolig er lav basert på litteraturhenvisninger til bare én av de helt nye lipidene som aldri før har blitt brukt i legemidler og der ingen farmakologisk informasjon finnes fra før (derfor omtalt som "novel excipients"). Hva hvis denne antakelsen viser seg å være feil? EMA argumenterer også for at dette er forsvarlig så lenge man kun gir 2 doser. Men i dag har man allerede gitt 4 doser enkelte steder i verden fordi effekten av «vaksinene» er mer eller mindre borte etter 6-9 måneder.
Side 50 EMA/707383/2020): Om skader som kan oppstå under graviditet:
«There was an increase (~2x) of pre-implantation loss (9.77%, compared to control 4.09%) although this was within historical control data range (5.1%-11.5%). Among foetuses (from a total of n=21 dams/litters), there was a very low incidence of gastroschisis, mouth/jaw malformations, right sided aortic arch, and cervical vertebrae abnormalities, although these findings were within historical control data.»
«It is noted that there is currently no available data on the placental transfer of BNT162b2.«
Risikoen for abort var nesten dobbelt så høy i vaksinerte vs uvaksinerte rottedyr. Og noen dyr (vi vet ikke andelen) hadde misdannelser. Men statistisk sett var dette innenfor, og dermed blir det ansett som brukbare resultater. I det minste ville slike resultater ha krevd nærmere undersøkelser. Så ja, dyreforsøk ble gjort – men ikke med solide trygge resultater.
Side 51 (EMA/707383/2020):
«No dedicated local tolerance studies have been conducted; however the assessment of local tolerance was performed in repeat-dose toxicity studies. At 100ug BNT162b2 V8, there was mostly slight to moderate oedemas but in some cases severe oedema. The severity increased with the 2nd and 3rd injections. The data for 30ug BNT162b2 V9 exposure indicated less severe but similar effects.»
Side 52 (EMA/707383/2020): om immunologi:
«Only single immunisation was conducted in mice, as compared to the clinical 2-dose regimen, which was adequate since only characterization of the immune response, but no challenge study was carried out in mice. Also, no or limited attention to the induction of long-term memory responses nor immunogenicity and protection in aged animals has been paid.»
Canadian Covid Care Alliance skriver det følgende angående manglende dyreforsøk:
«The short and long-term safety results of the inoculation in humans was unknown at the time of clinical trial recruitment. In fact, at the time of FDA EUA approval in December 2020, only unpublished short term outcomes from two toxicology studies and one immunogenicity trial were available. Studies assessing reprotoxicity and teratogenicity were ongoing and no genotoxicity or oncotoxicity studies were underway. What this means is that the animal testing which is usually completed prior to assessment in humans to ensure both the short and long-term safety of the inoculation was skipped and some safety questions such as whether the inoculations could alter the human genome or cause cancer remained unanswered at the time of approval.»
Påstand: Det har skjedd elleve ganger flere dødsfall etter koronavaksinene enn etter vaksinen mot svineinfluensa
Vaksineforsker Fossum mener det er uklart hva slags tall som sammenlignes for å komme frem til denne påstanden.
– For covid-19-vaksinene så er det registret 243 dødsfall etter vaksinering i Legemiddelverket sin bivirkningsrapport. Det betyr ikke at vaksinene har forårsaket disse dødsfallene, men at dødsfall har forekommet innen et gitt tidsrom etter vaksinering, sier Fossum til Faktisk.no.
Ja jeg er enig i at det er uklart hva slags tall som sammenlignes. Her er en mer nøye forklaring: en analyse som nylig ble offentliggjort på nettsiden til Foreningen Lov og Helse sammenlignet insidensen av svineinfluensavaksine-relaterte dødsfall med Covid-19-vaksine-relaterte dødsfall. Per 9. april 2013 var det i Norge meldt 10 Pandemrix-assosierte dødsfall per 2,2 millioner vaksinerte nordmenn, som gir en dødsfallsrate på 0,0005%. Samtidig var det i slutten av oktober 2021 meldt 217 Covidvaksine-assosierte dødsfall per 4,200,591 vaksinerte Nordmenn, som gir en dødsfallsrate på 0,0052 %. Forholdet mellom dødsfallsratene for henholdsvis Pandemrix og Covidvaksinene (samlet) gir så en faktor 11,4. Med de aktuelle tallene fra Legemiddelverket per 4. januar (243 dødsfall per ca. 4,285,000 vaksinerte) er dødsfallsraten lik 0,0057 %, hvilket er faktor 11,3 gange høyre enn raten for Pandemrix-assosierte dødsfall i Norge.
Det vi kan si er at dødsfallene opptrådte innen et gitt tidsrom etter vaksinering både for Pandemrix og Covidvaksinene, selv om det ikke betyr at vaksinene forårsaket disse dødsfallene. Men siden forutsetningene var det samme, i tillegg til at ved begge anledningene skjedde det ved en massevaksinasjon, synes jeg disse tallene kan sammenliknes. I Hemali-intervjuet snakket vi ikke om en årsakssammenheng, fordi det er kun patologer som kan bevise det ved obduksjon. De første funnene tyder på at spike-proteinet produsert av «vaksinene» har vært involvert i inflammasjonsprosesser som ledet til døden, ifølge Arne Burkhardt og hans team. De undersøkte 15 dødsfall som i utgangspunktet ikke var regnet som vaksineindusert dødsfall. De konkluderte med at 14 av disse døde pga «vaksinene» . Det vil derfor være naivt å tro at ikke dette også gjelder mange dødsfall i Norge også der vaksine ikke regnes som en medvirkende årsak.
Påstand: Denne vaksineteknologien har aldri blitt brukt på mennesker før
– Dette er teknologi som aldri før har vært brukt på mennesker, sier Elvevold til Hemali.
Fossum mener det er litt uklart hva Elvevold sikter til med dette. Han viser til at klinisk utprøving med ulike mRNA-vaksiner var godt i gang før pandemien. Han viser blant annet til utprøvinger mot kreft, som ble startet av CureVac i 2004, og 2013, som ble publisert i henholdsvis 2009 og 2014.I tillegg startet Pfizer utprøving av mRNA-vaksine mot føflekkreft i 2015, og Moderna startet utprøving av mRNA-vaksine mot zika-viruset i 2016.
Jeg går ut ifra at når produktet ikke har kommet på markedet etter hhv 8 og 13 år så skyldes det at det ikke fungerer. Jeg vet heller ikke hvilken type teknologi Fossum tenker på siden han ikke har dokumentert det. Men det er neppe lipide naopartikler med mRNA. Og dette er viktig. Selv om man har hatt kjennskap til både mRNA og lipide nanopartikler i mange år så betyr det IKKE at de er trygge å bruke. Hadde de vært enkle og trygge hadde det selvsagt vært flere liknende godkjente produkter på markedet. Men det er ingen. Det nærmeste er Onpattro. Men Onpattro inneholder siRNA og skal hemme produksjonen av et protein i leveren. Ikke produsere proteiner. I tillegg har ikke Onpattro PEG-molekyler på overflaten av partiklene noe som gjør at de fjernes raskt fra blodsirkulasjonen i motsetning til "vaksinene" som sirkulerer mye lengre og kan tas opp i små kapillærer hvor som helst i kroppen. Jeg har som nevnt jobbet med dette over flere år og jeg vet at spesifikt opptak er en av de to store utfordringene som har vært med bruk av alle typer RNA både til terapeutisk bruk og nå i forbindelse med vaksinering. Det er viktig at mRNA når frem til bare de ønskede målcellene eller målorganene der de skal utøve sin virkning. RNA i feil type celler eller organ kan ofte føre til uønskede bieffekter. Og det er det vi ser skje i stor grad med vaksinene. De lipide nanopartiklene ser ut til å bli tatt opp i mange forskjellige organer og celler. Doctors For Covid Ethics sendte et åpent brev til EMA allerede i mars i fjor om dette. Det er ubegripelig at ikke dette blir undersøkt.
Fossum blander også 2 veldig forskjellige ting: kreftmedisiner og vaksiner. Kreftmedisiner gis til syke mennesker, der på celle-nivå hele biokjemien er forandret. Vaksiner gis derimot til i utgangspunktet friske mennesker og det stilles mye strengere krav til sikkerhet og man bør være forsiktig med å sammenlikne dette.
Forskningen på lipid-nanopartikler har vist at særlig såkalte kationiske lipider har både inflammatoriske (betennelse) og cytotoksiske (giftig for cellene) effekter som leder til bl.a. apoptose.
https://pubmed.ncbi.nlm.nih.gov/33571463/
https://sci-hub.se/https://doi.org/10.1016/j.jconrel.2006.04.014
https://academic.oup.com/toxres/article/7/3/473/5545061
https://www.sciencedirect.com/science/article/abs/pii/S0168365906002045?via%3Dihub
En studie av Ndeupen et al. publisert i desember 2021 viste at lipidkomponentene som nå brukes i vaksinene fremkaller alvorlige betennelsestilstander i forsøksdyr. Dette er en dyreforsøkstudie som er gjort i etterkant av uavhengige forskere. Slike studier hadde med fordel blitt publisert før kliniske studier ble igangsatt. Forskerne skriver om de lipidene som nå brukes:
«Furthermore, the observed activation of other inflammatory pathways and cell death could further accentuate the experienced side effects. However, further studies will be needed to determine the exact nature of the inflammatory responses triggered by mRNA-LNP vaccines in humans and how much overlap there might be with the inflammatory signatures documented here for mice.»
Forskerne advarte mot langtidseffekter, særlig kroniske betennelsestilstander og «immune exhaustion», dvs. en gradvis ødeleggelse av immunsystemet.
«Inflammatory cell death, such as necroptosisand pyroptosis, could cause […] the further enhancement of inflammation. The synthetic ionizable lipid in the Pfizer SARS-CoV-2 vaccine has been speculated to have approximately 20–30 days of halflife in humans (Comirnaty, 2021). Whether the long-term presence of ionizable lipid could lead to low levels of chronic inflammation and immune exhaustion (Wherry and Kurachi, 2015) remain to be determined.»
Lipid-nanopartiklene som nå brukes i vaksinene kan sette i gang en hel rekke uønskete biokjemiske reaksjoner, skriver Ndeupen et al. videre:
«Briefly, although mRNA mainly transfects cells near the injection site, it could hypothetically reach any cell in the body (Maugeri et al.,2019; Pardi et al., 2015). The resulting translated protein could be presented on MHC-I in the form of peptides or displayed as a whole protein in the cell membrane. […] In line with this, the so-called ''Covid-arm,'' a delayed-type hypersensitivity reaction that develops in some patients several days after vaccination (Blumenthal et al., 2021), or the myocarditis/pericarditis recently reported with some of the vaccinated people (Abu Mouch et al., 2021; Diaz et al., 2021; Marshall et al., 2021; Montgomery et al., 2021; Shay et al., 2021), or the CNS inflammation observed in a small number of vaccinated MS patients (Khayat-Khoei et al., 2021) could be indeed an indication of immune responses targeting the cells expressing the vaccine-derived peptides/proteins.»
Påstand: mRNA-vaksiner er en eksperimentell genterapi
Slik beskriver Elvevold vaksinene mot Covid-19 overfor Hemali:
«Eksperimentell genterapi som ikke kan sammenlignes med tidligere vaksiner.»
I intervjuet brukte jeg utrykket gen-injeksjon, så jeg tror uttrykket «genterapi» rett og slett skyldes at Hemali forbyttet uttrykk i oppsummeringen. Uttrykket genterapi brukes ganske ofte og Bayer-sjef Stefan Oelrich brukte det i åpningstalen sin på World Summit 24 oktober i Berlin:
«For us, therefore, we are really taking that leap, us as a company, BAYER, in cell and gene therapy which to me is one of these examples we're really going to make a difference, hopefully… moving forward. Ultimately, the mRNA vaccines are an example for that: cell and gene therapy. If we had surveyed two years ago in the public 'Would you be willing to take a gene or cell therapy and inject it into your body?', we would have probably had a 95% refusal rate. I think this pandemic has also opened people's eyes to innovation in a way that was maybe not possible before.»
Men vaksinene er ikke genterapi som sådan, forteller vaksineforsker Fossum.
– Hensikten med genterapi er å permanent endre gener i en organisme, for eksempel for å reparere mutasjoner som fører til bestemte sykdommer, skriver Fossum.
Men mRNA-vaksinene fungerer ikke på samme måte. De leverer en oppskrift på spikeproteinet fra SARS-CoV-2-viruset.
– Oppskriften brytes ned etter spikeproteinet er dannet, så det gir ingen varige endringer i genene våre, skriver Fossum.
Fossum's uttalelse stemmer ikke overens med hva EMA-rapporten om Pfizer/Biontech-vaksinen oppsummerte angående kunnskapen vi har om mRNAen brytes ned eller skilles ut. Det står på side 47 og 48:
«No metabolic studies were performed with the modRNA or the other two lipids of the LNP. […] No excretion studies were performed with the modRNA or the other two lipids of the LNP […]»
Dette forteller oss at studien om «oppskriften» blir brutt ned og skilt ut ikke ble gjennomført.
Fossum skriver at den injiserte mRNAen «gir ingen varige endringer i genene våre». Forhåpentligvis stemmer det, men det kan det settes spørsmålstegn ved. Gruppen til Rudolf Jaenisch publiserte i PNAS en studie som viste at det finnes molekylære mekanismer som gjør at Sars-CoV-2 RNA kan integreres i det humane genomet via cellulære revers-transkripsjonsmekanismer. Det vil si at et RNA-molekyl kan omgjøres til DNA via mekanismer/enzymer som muliggjør en integrasjon i det humane genomet (DNA). Om det samme kan skje med syntetisk fremstilt mRNA som bli injisert via vaksinene er ikke forsket på – men etter Jaenisch's studieresultater kan vi ikke lenger utelukke det.
En annen banebrytende artikkel ble publisert i juni 2021 viste at helt vanlige polymeraser (PolTheta) som finns i alle menneskelige celler også har mulighet til å oversette RNA til DNA. Richard Pomerantz, en av forfatterne sa:
«This work opens the door to many other studies that will help us understand the significance of having a mechanism for converting RNA messages into DNA in our own cells […] The reality that a human polymerase can do this with high efficiency, raises many questions. For example, this finding suggests that RNA messages can be used as templates for repairing or re-writing genomic DNA.»
Ved å injisere mRNA inn i milliarder av celler leker vi med ilden. Vi vet ikke hva konsekvensene vil være på lang sikt.
Påstand: Ivermectin fungerer mot covid-19
– Honduras, Japan og den indiske delstaten Uttar Pradesh er eksempler på at kombinasjonen av ulike tilskudd og medisiner, som Ivermectin, sink og antibiotika, fungerer, sier Elvevold til Hemali. Professor Spurkland skriver til Faktisk.no at det ikke er vist i klinisk kontrollerte studier at dette har effekt. Vaksineforsker Fossum forteller også at effekten av Ivermectin er usikker.
– Det hadde vært supert hvis det stemte, men studiene som har vært gjennomført så langt har vært sprikende og av varierende kvalitet. En oversiktsstudie fra Cochrane-biblioteket konkluderer med at det er usikkert om Ivermectin har noen effekt, og at resultatene så langt ikke støtter utstrakt bruk.
Ja, store dobbelt-blindede randomiserte studier gir de beste resultatene. Men ingen har vært interessert i å utføre slike studier og i hvert fall ikke legemiddelselskapene. De økonomiske insentivene er nok for ubetydelig i forhold til det de tjener nå. Retrospektive observasjons-kontrollerte kohortstudier kan også brukes og Cochrane innrømmer selv at resultatene stort sett blir de samme. Dr Pierre Kory ble invitert til å vitne i senatet 24 januar og kunne gi følgende informasjon om bruk av Ivermectin:
Mexico City: 50.000 pasienter fikk ivermectin vs og ble sammeniknet med 70.000 som ikke fikk det. Resultat: 70% reduksjon i sykehusinnleggelser for de som fikk ivermectin.
Argentina: Helsedepartementet sammenliknet 4000 pasienter som fikk ivermectin med andre pasienter i samme tidsperioden. Resultat: 75% reduksjon i sykehusinnleggelse og 88% reduksjon i dødsfall blant de som fikk ivermectin.
Uttar Pradesh: myndighetene utførte tett overvåkning og ga ivermectin (samt sink og doxycycline) til positive tilfeller samt nærkontaktene deres. Resultat: "The Times of India" meldte 20 oktober at det var null tilfeller av covid i 71 av 75 distrikter i Uttar Pradesh.
Itajai, Brasil. De gjorde preventiv behandling. 60% av innbyggerne fikk ivermectin hver 2 uke i 6 mnd. Resultat 56 % lavere sykehusinnleggelse og 70% lavere dødlighet blant de som tok ivermectin.
Sultan Kudarat, Filippinene lanserte en ivermectin stasjon. Det førte til 86% reduksjon i smitte.
I Japan lanserte de ivermectin under sommerbølgen og har nå den laveste Covid-innleggelse under pandemien.
Early Treatment, eller tidlig behandling, er det eneste som kan få oss ut av pandemien nå. Jeg håper Spurkeland og Fossum leste publikasjonen til McCullough et al som var linket i Hemali artikkelen. I Hemali nevnte jeg også 3 nettsteder der protokoller for Early Treatment er beskrevet. Det er ingen grunn til at man skal legge «alle eggene i en kurv» og utelukkende satse på «vaksinene».
Og når WHO ber landene se etter andre løsninger bør vi lytte. Og det mener jeg at jeg har gjort ved å legge frem alternativer. Viktigheten av D vitamin kan ikke undervurderes. Norske helsemyndigheter anbefaler et inntak på 10-20 mikrogram/døgn. Det er for lite og man bør ha 100-200 mikrogram/døgn sammen med K vitamin. Det er godt beskrevet i denne publikasjonen.
Andre forskere har oppnådd gode resultater med hydroxychloroquine, Azithromycin, Zinc, and Vitamin D3.
En annen lege/forsker som har oppnådd oppsiktsvekkende resultater ved å behandle pasienter er Dr Shankara Chetty fra sør-Afrika (Dr Shankara Chetty MD South Africa). Mens mange leger har blitt forferdet over det «aggressive» viruset som forverrer covid i løpet av noen timer, har Chetty en annen tilnærming. Han har på klokelig vis antatt at et virus som trenger 10 timer for å formere seg ikke kan stå bak denne plutselige forverringen. Han antok at det heller var et resultat av en allergisk reaksjon og behandlet pasientene deretter. Av de 7000 pasientene han har behandlet har ingen dødd.
Påstand: Vaksinene forhindrer ikke smitte
– En vaksine skal gi immunitet og forhindre smitte. Disse gjør ikke det, sier Elvevold til Hemali.
Elvevold viser til en artikkel publisert i The Lancet som begrunnelse for dette. Men i artikkelen står det motsatte av det Elvevold hevder, påpeker Fossum.
– Artikkelen viser at vaksinerte nærkontakter har lavere risiko for å bli smittet sammenlignet med uvaksinerte. Men en vaksinert som først blir smittet hadde like høy sannsynlighet for å smitte videre til nærkontakter som en uvaksinert. At smitte forekommer hos fullvaksinerte har være kjent lenge, men risiko for å bli smittet er altså lavere, skriver Fossum.
Jeg er ikke enig med Fossum at det står det motsatte av hva jeg hevder. Tvert imot, publikasjonen viser nettopp det jeg sa, nemlig at «vaksinen» ikke hindrer smitte. Videre, denne preprinten skriver at smitten er helt lik mellom «vaksinerte» og «uvaksinerte». Og ser man på den smitte-reduserende effekten av injeksjonene i makro-skala virker de svært lite egnet til å redusere smitte, noe denne publikasjonen viser tydelig. De har sett på sammenhengen mellom smitte og vaksineringsgrad i 68 land og 2947 fylker i USA. Vaksinering har ingen effekt på smittereduksjon. Tvert imot. De skriver: «In fact, the trend line suggests a marginally positive association such that countries with higher percentage of population fully vaccinated have higher COVID-19 cases per 1 million people. Notably, Israel with over 60% of their population fully vaccinated had the highest COVID-19 cases per 1 million people in the last 7 days.»
Professor Spurkland mener dessuten at dette er et snevert syn på hva vaksiner er.
– Vaksiner skal beskytte mot sykdom ja, men vaksiner beskytter ikke nødvendigvis mot infeksjon. Det blir en for snever definisjon av hva vaksiner er.
Hvis Spurkeland er uenig hva som er en vaksine kan man f.eks se på hva som står i Store Norske Leksikon: "Vaksine er et preparat som brukes til å stimulere immunapparatet slik at den som vaksineres, blir immun uten å gjennomgå sykdom" Eller Wikipedia: " Vaksine (av latin vacca; «ku», vaccinia; «kukopper») er svake eller døde smittestoffer eller toksiner som tilføres kroppen for å gjøre den immun mot sykdommen det aktuelle smittestoffet bærer med seg".
Så vidt jeg forstår faller ikke de genbaserte vaksinene inn under disse definisjonene. Eventuelt kan man gjøre som CDC i USA: når de genbaserte injeksjonene ikke faller inn under definisjonen for vaksine, så omgjør de definisjonen slik at de passer inn likevel. Den 2. september 2021 forandret CDC definisjonen til: "a preparation that is used to stimulate the body's immun respons against diseases" Jeg vil anta at det nå finnes svært mange preparater som faller inn under den nye utvidede definisjonen til CDC. Også Merriam Webster endret definisjonen av «vaksine» i januar 2021, som Peter Doshi nevnte i en paneldiskusjon initiert av senator Ron Johnson.
Påstand: 4000 ulike skader er rapportert etter vaksinene
Elvevold viser til fra tall det amerikanske rapporteringssystemet VAERS og det europeiske EuroVigilance. På bakgrunn av dette hevder han at det er rapportert over 4000 ulike skader etter vaksineringen mot koronaviruset.
– Jeg snakker altså ikke om antall skader, men de forskjellige typene skader, sier Elvevold til Hemali.
Men dette er misvisende bruk av informasjon fra rapporteringssystemet. Både Spurkland og Fossum påpeker at databasene registrerer sykdomstilfeller som rapporteres inn etter vaksinering. Disse bivirkningene trenger ikke være forårsaket av selve vaksinen.
I Norge fungerer rapporteringen til Legemiddelverket på lignende vis.»
VAERS er et av de største systemene som finnes i Nord-Amerika og det er derfor det som brukes. Studier har vist at det bare er en liten del av bieffekter som rapporteres inn. Så når det er dokumentert 4000 forskjellige tilfeller bør man ikke tvile på det. Og hvis det mot formodning skulle vise seg at det bare er halvparten, 2000 forskjellige tilfeller, så er det også ekstremt høyt. For øvrig er det i Norge meldt inn nesten hele 52.000 bivirkningsmeldinger hvorav 4765 er alvorlige (status 18. januar 2021). Vi aner ikke mørketallene i Norge, men jeg tror de fleste skjønner at de reelle tallene er mye høyere.
Det viser seg vanskelig for forskere å få analyser av bivirkninger publisert; en artikkel av Rose og McCullough har nylig blitt fjernet – uten begrunnelse eller varsel til forfatterne:
"The Publisher regrets that this article has been temporarily removed. A replacement will appear as soon as possible in which the reason for the removal of the article will be specified, or the article will be reinstated."
Det er en for stor trend i Norge at nøyaktig de samme fagpersonene fritt får uttale seg i media og til Faktisk.no om hva de "synes er sant eller usant", og hvor de får erklære at noens "påstander" er feilaktige uten å selv måtte redegjøre for eller underbygge sitt syn. Jeg etterspør at man i større grad kan ha en vitenskapelig debatt hvor man diskuterer konkret innhold. Dette hadde vært viktig og oppbyggende for norsk offentlighet, spesielt i en altomfattende krise om denne pandemien er/har vært.
Kjetil Elvevold